THE
FUTURE

IS HERE,

SONSHINE DEVELOPMENT LLC
We would like for you to meet our CEO, Curtis Best, our President, William Hucks, our Director of R&D, Larry Mudd, our Director of Manufacturing and Production Billy Pierce.  This group is responsible for the concept and design of all of our Solar Spot 7 products.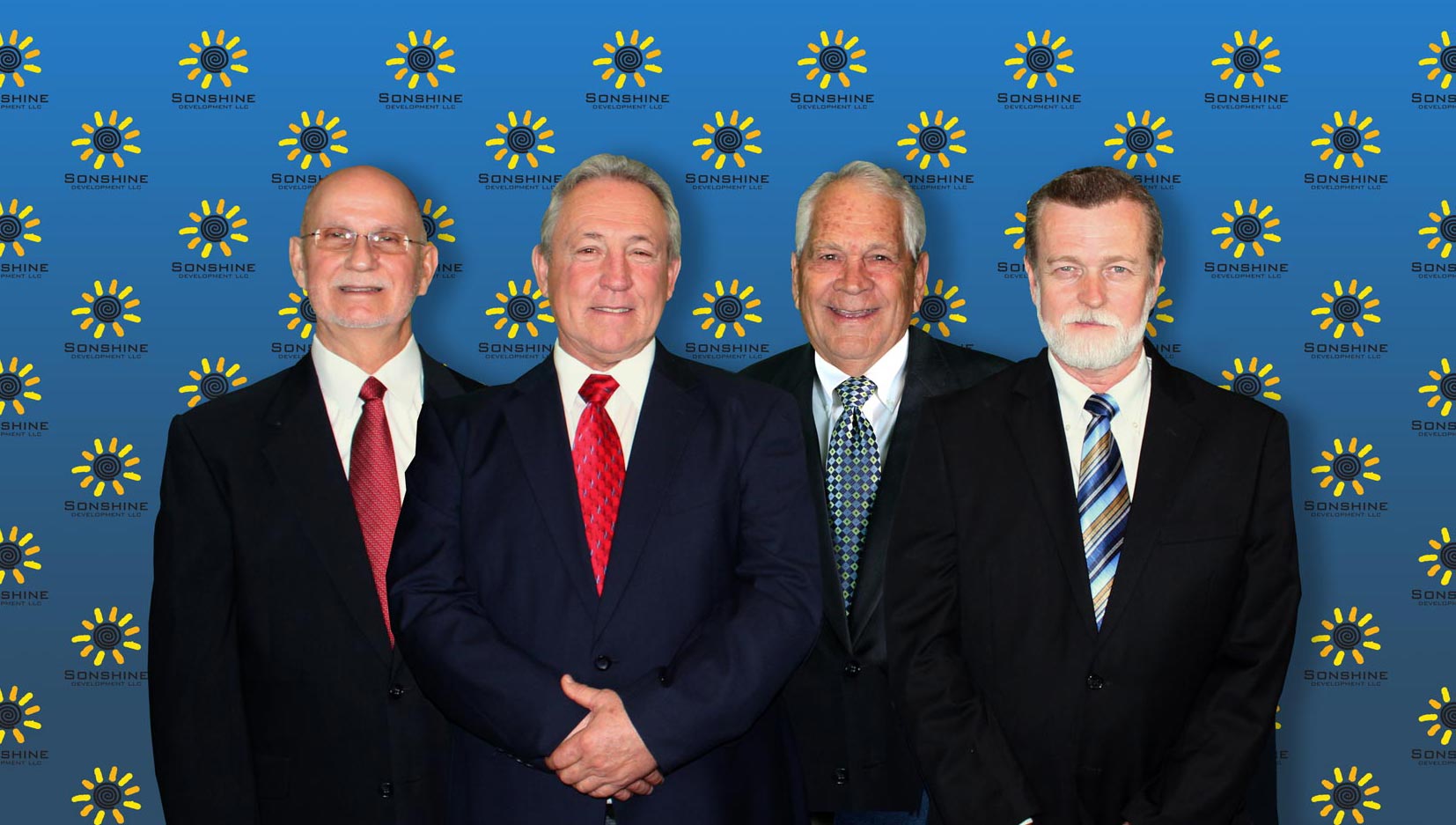 Behind The Scenes With The Team
Curtis Best
Born and raised in Galivants Ferry, SC. He discovered his interest in electronics from working with Larry Mudd and received his formal education from Horry Georgetown Technical College. Although his meeting with Larry and Jim Pinner in 2005 set the foundation for the SolarSpot 7, his interest in the sun began in his childhood days.
Larry Mudd
Born in Victoria, Texas. After coming to Aynor SC in 1972 he became a top C Band satellite receiver dealer and was asked for a featured article in Newsweek magazine. He has an extensive back ground in electronic servicing, engineering and manufacturing technologies. Semi-retired, he enjoys the SolarSpot 7 adventure.

William Hucks
Born in Conway, SC in 1945 and raised in Myrtle Beach, SC.  He worked 45 years in the Electronics Industry.  He has worked for three of the top Ceramic Capacitor Manufacturers in the World.  He is now retired and owns a small Computer Store in Loris, SC.
William Pierce
Born in Paris, TN and has lived in Georgetown, SC for 54 years.  After college, he worked in sales for 6 years, accounting for 18.5 years, and presently owns and operated his own manufacturing company in Georgetown, SC with his son Ryan.  He joined Sonshine Development LLC after seeing how well the Solar Spot 7 performs.
GROUND-BREAKING
AMAZING

TECHNOLOGY
With an "Active" Dual Axis Tracking System, the Solar Spot 7 follows the Sun from Sunrise to Sunset,
returning to the "Home" position after Sunset.
Tomorrow's Technology, Today.
Active Dual-Axis Tracking System.

Patent Pending Black Solar Tubing.

Mixing Valve for blending cold water with hot water to optimize the water temperature.

Stand Alone System with Battery Backup to keep the Solar Spot 7 "Active" even during a  power outage.
Our Utility Patent covers Heating Water, HVAC, Drying Clothes and Heating Water for a Hot Tub or Swimming Pool.  We are currently concentrating on just one aspect of this Patent.  We are putting all of our time and effort into Systems for Heating Water.  We are calling this "Phase 1" with "Phase 2" being the HVAC portion of our Research and Development, "Phase 3" being a Clothes Dryer and "Phase 4" being Heating Water for Hot Tubs or Swimming Pools.  We will develop each Phase of our business as we grow into it. Once we get the Hot Water Heating business up and running, we will move on to the other Phases of our Business Plan.
Follow Sonshine Development LLC On Social Media
Like us on Facebook and Track us on Twitter!